Payment methods
Pay with PAYPALL, IDEAL, or credit card.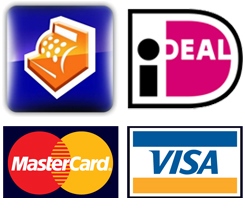 It is super easy to make your purchases with IDEAL.
Our ideal function runs through the RABO OMNIKASSA and is connected to all banks.

As soon as your payment is successful, we can immediately proceed to shipment.
And you do not pay any additional costs for accepting this payment method.
Pay by bank transfer

Because it takes longer for us to receive your payment, it will also take longer
before you have your ordered items at home.
You also pay extra costs because of the high bank rates
that apply to payment transactions in the Netherlands.
You can make your payment on the following IBAN number:
NL81RABO0169937844
How does payment via credit card work?
We accept Mastercard, Maestro, Discover and American Express.
You enter your credit card data via a secure SSL server which can be recognized by the key at the top of the page.
We will deliver your order as soon as the credit card company has approved the payment.
There may be costs associated with the use of this payment method.
You only pay the costs for the use of your credit card which have been prepared by your credit card company.
with some credit card companies, these costs amount to 4% of your purchase.

these costs can be found in your shopping basket.

you can also opt for a more economical way of paying.
Your advantage:

Payment is made via a secure SSL server. (SLL-EV Certificate)
You have the products ordered quickly in house
Fast delivery because we see immediately that the transaction is successful.
You can always call us at Twijvel about your payment.
(contact person for payment: R.Schoolderman)
Office hours 0229 745390 (10.30 to 16.00)
Outside office hours ( [email protected] )
- - - - - - - - - - - - - - - - - - - - - - - - - - - - - - - - - - - - - - - - - - - - - - - - - - - - - - - - - - - - - - - - - - - - -
Typical Dutch Gifts and Souvenirs , located at the Breed 35 in the characteristic VOC city Hoorn offers an amazing assortment of traditional and modern Dutch Souvenirs , Amsterdam Gifts and Delft Blue gifts. Our physical and online collection is very diverse and varies from classic Dutch T-shirts, Amsterdam T-shirts , Amsterdam and Holland caps Amsterdam hats , to modern bags by the brand Robin Ruth . Traditional Typical Dutch delicacies such as   old-fashioned (nostalgic) sweets, cookies, syrup waffles ,   Typically Dutch is also the address for Holland gift packages and Holland promotional gifts All souvenirs gifts can be sent during your ordering process to another delivery address such as friends, relatives, or business relations, wherever they are. If you have any questions or comments, please call 0229 745390